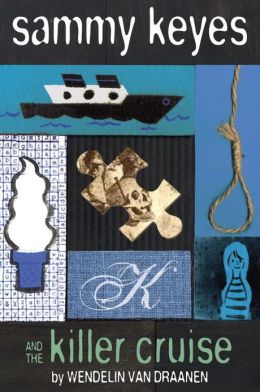 Title:
Sammy Keyes and the Killer Cruise
Author:
Wendelin Van Draanen
Genre:
MG/YA Mystery
Publisher:
Alfred A. Knopf
Release Date:
September 10, 2013
This review contains spoilers for those who have not read
Sammy Keyes and the Showdown in Sin City.
Today, I bring you my thoughts on the second-to-last installment of a favorite series from my childhood,
Sammy Keyes
. Sammy, after finally learning who her father is, is now set to join him on a Let's-Get-to-Know-Each-Other cruise across the high seas with her best friend, Marissa McKenzie, in tow! However, as things in Sammy's life rarely do, nothing quite goes as planned, and after making the acquaintance of the family behind the Kensington fragrance empire, Sammy, Marissa, her dad, and his best friend, Marko, end up right in the middle of a classic whodunnit murder mystery.
I loved this book. By all accounts, Sammy's life has completely changed now that she's got her dad in her life—and not just any kind of dad, a rock star dad—and her grandmother has married and moved in with Hudson. Suddenly, all the things Sammy never really had—money, popularity, a bed—are available to her and she's not quite sure what to make of it, especially since she's convinced her dad will flake at any moment just like her mother. On top of all this, Sammy frets about losing Marissa, who is moving to Ohio with her mom and brother after the school year ends. One of the highlights of this book is the window Van Draanen gives us into Sammy's new life and her hesitant attempts to adjust to it. Watching Sammy and her dad, Darren, get to know each other is delightful, and her struggle to enjoy her last harrah with Marissa while trying to figure out how they'll stay close after Marissa moves is relatable. The underlying narrative about dealing with change, both those big, unexpected life changes and the ones that come along with growing up, is one that I think many, regardless of age, can relate to or understand. I certainly identified with it. Having just graduated college, I have lived Sammy's struggle to figure out how to make long-distance friendships work, since my friends are now scattered across the country.
In stark contrast to the cute family unit Sammy and Darren fashion for themselves, our resident antagonists/suspects, the Kensington clan, are a dysfunctional family if you've ever seen one. The kids are not at all concerned by their mother, Kate's, disappearance, which kicks off the mystery portion of the story. Sammy falls into an unlikely alliance with Kip Kensington, an adopted addition to the family, and quickly learns that all of Kate's kids, displeased with their late father's will, have a motive to want their mother gone. Sammy continues in her trademark vein of getting into trouble (and dragging Marissa in with her). In this book, though, she also gains the assistance of two willing troublemakers in Darren and Marko, who, despite being adults, get just as invested in figuring out this mystery as Sammy herself does. Trapped on a ship, Kate's disappearance is your typical locked room mystery that follows in the vein of classics like
Clue
or
Sherlock
, a fact Van Draanen alludes to directly when Marko re-imagines the game Clue to include the Kensington clan as the suspects.
Van Draanen does a great job balancing the more subtle nature of the character development aspect with the action and suspense of the mystery, a balance made possible due to the uniqueness of Sammy's voice. Sammy approaches a lot of her personal issues such as her reluctance to call Darren "dad" and Marissa leaving, as well as the mystery itself with a tell-it-like-it-is candor, which means we can read about the "mushy" things without getting bogged down in dramatics. We feel her emotions and see her struggles, but she acknowledges them and just as quickly we're off to the races about something else. Her voice ensures the reader can never get bored, always bouncing us from conjecture to personal reflection to action and back again in a way that will even engage readers outside of the book's intended 9-15 aged audience. (I read the first page of this story out loud to my dad, and it had both of us chuckling.) Plus, Sammy's disdain toward being spoken down to by adults means that Van Draanen never talks down to her readers, and she doesn't shy away from tackling "tough issues," a fact I especially appreciated because so many books written for young people do, as if kids and teenagers can't or don't think "the tough stuff" as much or as deeply as their adult counterparts.
My final verdict?
Sammy's done it again! Her spunk, her sass, and her penchant for trouble all come through on the page loud and clear, and they make for a fun, enjoyable, snappy read. I'd definitely recommend this book for anyone who likes the structure or suspense of mystery with a dash of family drama, laugh out loud humor, and classic Sammy Keyes trouble!
5 stars