So, in previous renditions of my blog, I had a Friday feature called, you guessed it,
This Week's Obsessions
, TWOs for short, in which I, you guessed it, obsessed in public over the things I'd been obsessing over in private all week. These obsessions are not necessarily book-related, but I decided to keep this feature, because it's really fun to write, and you get to see a different side of me! Plus,
we can obsess about this stuff together!
Doesn't that sound like fun?
1. "Chocolate" by The 1975
I downloaded this song a while ago on iTunes, and for some reason, felt the need to give it a listen randomly a couple days ago, and I cannot stop listening to it. First of all, it's so soothing! It helps me focus when I'm trying to work, calm down when I'm upset, and just generally kick back and daydream when I want to take a break from thinking. Great song, and the lead singer has the cutest accent. I want to try and reproduce it here, but I will only succeed in looking stupid. In fact, I did it anyway, and then erased it because I was too embarrassed by the attempt. Sorry, my friends, you will never see it. But trust me, it's for the best.
2. MICHAEL Michael Kors Hamilton Large Stripe North South Tote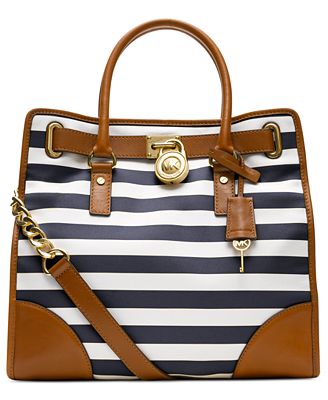 Long name for a handbag, but this sucker is gorgeous! A woman came in with it when I was at work on Monday, and I was in love from the moment I saw it. I'm not normally a handbag girl, but the navy blue nautical stripes paired with the tan details is classy, and the tote's size makes it practical for carrying your all necessities (wallet, chapstick, phone, breath mints, book, and back up book in case you finish your first one) with out being obscenely large or getting in the way. Unfortunately, this guy is no longer for sale from regular retailers, but you can find him on eBay for a pretty penny (upwards of $300). He has equally attractive cousins in red and yellow, also available on eBay and at a cheaper price than this guy (I've seen as low as $110), but the navy blue is still my favorite.
Why did I not know of this bag's existence when I could still find him in the stores?
3. Maruman Sept Couleur Notebooks
As most of my friends know, I am obsessed with stationary
—quality pens, pencils, highlighters, and paper are essential to producing quality writing of any kind, after all. I am very picky about my writing utensils (0.7 maximum on the point or lead weight, though I prefer 0.5 or below) and prefer to write on college-ruled paper, because my handwriting is small, and I feel like I'm wasting a tree when I use wide-ruled because so much space is being left empty! In my experience, Japan makes the best stationary in the world. I found this brand of notebooks while in Tokyo, and I just happened to pick up the small one on a whim to use as a writer's journal for jotting down notes. Best notebook I have ever owned. Perfectly-sized lines, perfectly sized notebook that fits conveniently into any pocket, jeans, purse, or otherwise, and because of the spiral you can lay it flat or bend it backwards, which makes it ideal for jotting things down on the go without having to worry about damaging the spine as you might with those mini composition notebooks. Perforated pages make it easy to remove pages cleanly, if you so desire, though they are strong enough that they don't just start ripping out on their own like some do.
I was reminded of this notebook, because a friend of mine went back to Japan to travel for a little bit. I asked her to get me some if she saw any, because unfortunately, this company is based in Japan, and I have yet to find these notebooks anywhere outside of that country. But fortunately, you can find them in online stores like JetPens (they have the larger sizes A4, a bit skinnier and taller than our 8.5" x 11", and A5, around 5" x 8"). My preferred size in this brand is B7
—

that perfectly sized writer's journal!
—

but I haven't found a way to purchase it stateside yet. I will keep you updated on my search, though. In the meantime, check out their home page here.
Those are my obsessions for the week. Is there anything that's caught your fancy this week? Let me know in the comments below!